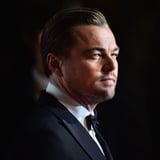 It's clear by now that Quentin Tarantino isn't afraid of diving into some pretty gory, gruesome stories, and his next project only further confirms it. In July, The Hollywood Reporter revealed that Tarantino is reportedly in the early stages of putting together a film described as "a unique take on the Manson Family murders." Here are the scraps of information we've been able to pull together so far:
The Production Team
The drama, which would be his follow-up to 2015's The Hateful Eight, is still untitled, but a source confirmed that Tarantino has already penned the script for Sony and will direct. The movie is being produced by Tarantino, Harry Potter's David Heyman, and Shannon McIntosh, with Georgia Kacandes serving as executive producer.
The Cast
On the casting front, sources report Inglourious Basterds alum Brad Pitt is in talks to play the detective who ends up investigating the case, and longtime Tarantino collaborator Samuel L. Jackson will likely play a lead in the film as well, Deadline reports. Jennifer Lawrence has also been approached, but apparently she's not being considered for the role of Sharon Tate (the pregnant actress murdered by Charles Manson). Instead, it seems Tarantino has his eye on Margot Robbie for that role. Hopefully they can finagle the movie's production schedule around her work in the upcoming Harley Quinn spin-off, because she seems like a spot-on choice.
Although Tom Cruise is reportedly still being considered for Manson, Deadline revealed that Leonardo DiCaprio has officially been cast in an unknown role. The decision seems pretty fitting, considering how great DiCaprio and Tarantino worked together on 2012's Django Unchained. The only thing we know about his character so far is that he's "an aging actor," but we can bet he'll deliver a stand-out performance. After all, it will be the actor's first film since winning an Oscar for The Revenant in 2016.
Related
7 True Stories Coming to the Big Screen in 2017
The Story
Script details are still very much under wraps, but the script is a "Pulp Fiction-esque movie set during the time of the Manson murder spree in Los Angeles," according to Deadline. That definitely makes it seem like the infamous murder itself will be more of a backdrop to the actual story, even if Sharon Tate and Charles Manson make appearances.
Tate, the Hollywood actress and pregnant wife of famed (and disgraced) director Roman Polanski was brutally murdered by the followers of cult leader Manson in August 1969. Tate and four other people - Wojciech Frykowski, Abigail Folger, Jay Sebring, and Steven Parent - were staying at Polanski's LA home in Benedict Canyon when Manson followers Tex Watson, Susan Atkins, Patricia Krenwinkel, and Linda Kasabian broke in and savagely murdered them with guns and knives. Tate was eight months pregnant at the time, adding an even more tragic touch to the already disturbing case.
A few months later, Manson and his followers were arrested for auto theft, including Atkins, who later told her cellmate that she was responsible for Tate's death "because we wanted to do a crime that would shock the world, that the world would have to stand up and take notice." By 1971, Manson and a few members of his following were sentenced to life in prison for the Benedict Canyon murders.
The Premiere Date
Deadline reports that the as-yet-to-be-titled film will hit theaters on Aug. 9, 2019, which is the 50th anniversary of Sharon Tate's death. Talk about macabre.