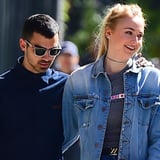 Image Source: Getty / Raymond Hall
Joe Jonas and Sophie Turner are already engaged, but the 28-year-old may have just found another way to make his love for the 22-year-old actress official: with a tattoo! On Sunday, Joe debuted some new ink on his forearm, which fans seem to think is a nod to Sophie's Game of Thrones character, Sansa Stark. Joe has yet to confirm anything, but we can't help notice the similarities.
@curtmontgomerytattoos does it again 🤙🏽💉

A post shared by J O E J O N A S (@joejonas) on
Image Source: HBO
Joe and Sophie got engaged after less than a year of dating back in October 2017, but it seems they aren't rushing to the altar just yet. The couple is waiting until the final season of Game of Thrones is wrapped to officially begin planning, and given that we won't be seeing it until sometime in 2019, we can expect them to start then.