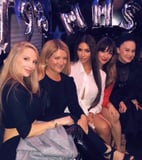 Imagine if you walked into your 20th high school reunion, only to remember that, oh yeah, Kim Kardashian was in your class. That was the reality for the graduates of Marymount High School in Los Angeles, who celebrated their reunion on April 13. The 37-year-old reality TV star memorialized her nostalgic trip to the past on Instagram by taking snaps of the halls of her high school, the classrooms she studied in, and of course, the friends she made along the way. She even got a party bus for the occasion, because what screams "prom queen of the late '90s" more?
While Kim's friends were worried they'd run into girls they were "mean to" back in the day, she reassured her followers that she felt at ease because she was "so nice to everyone" in high school. She also decided to rock her name tag to the reunion, just in case. While it's always better to be safe than sorry, something tells me the class of '98 would probably be able to identify her either way.
Related:
Kim K Congratulates Khloé on the Birth of Her Daughter: "You Made That Look So Easy!"