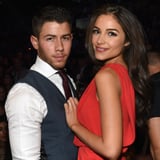 Hold up, are Nick Jonas and Olivia Culpo getting back together? According to Us Weekly, the 25-year-old singer is trying to win her back nearly three years after breaking up with her. Not only has Nick been "liking" a bunch of Olivia's Instagram photos recently, but he reportedly "reached out a couple weeks ago via text trying to reconnect." However, don't get your hopes up just yet. Olivia apparently has "absolutely no interest" in rekindling her romance with Nick after he "treated her badly when they broke up."
Related:
Breakup to Makeup: 37 On-Again, Off-Again Celebrity Couples
Nick and Olivia dated for almost two years before splitting in June 2015. Nick was then rumored to have dated Kate Hudson and was recently spotted making out with a woman named Annalisa Azaredo in Australia, while Olivia recently called it quits with NFL star Danny Amendola after two years together.