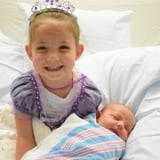 A post shared by Haylie Duff (@haylieduff) on
Haylie Duff is a mom again! On Thursday, the actress revealed that she welcomed her second child, a little girl named Lulu, with fiancé Matt Rosenberg. Not only did she give us a little glimpse of her newborn, but it seems like her 3-year-old, Ryan, is overjoyed to be a big sister. "She arrived June 5th, and brought all her magic with her!" Haylie captioned the photo of her daughters. "Ryan is the happiest big sister & we are finally a family of 4! 💜Meet our littlest one . . . Lulu Gray Rosenberg!" Aww!
The couple, who got engaged in April 2014, first announced they were expecting back in January, when Haylie posted an adorable photo of Ryan pointing to her belly. In May, we talked with her sister, Hilary Duff, who is mom to 6-year-old Luca, and she couldn't help but gush about being an aunt to Ryan. "It's nice to have a girl around," she said. "Luca and I have such a tight bond, I can't imagine not having a boy, but Ryan is just so different than him." Congrats to Haylie and Matt on their family of four!