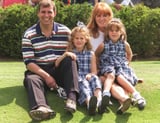 6Princess Eugenie of York married Jack Brooksbank on Oct. 12, and like most brides, she did so in front of close friends and adoring family members - however, 28-year-old Eugenie does have a "princess" title in front of her name, so the family members involved were a bit more high-profile than your average relatives. Eugenie tied the knot at St. George's Chapel in Windsor, England, the same place her cousin Harry married Meghan Markle in May. She was walked down the aisle by her father, Prince Andrew of York, at the wedding, which her mother, Sarah Ferguson, was reportedly "very involved" in planning.
Related:
Sarah Ferguson Revealed Princess Beatrice's Childhood Nickname in a Sweet Birthday Shout-Out
Prince Andrew and Sarah Ferguson got married in July 1986, almost five years to the day of Prince Charles and Princess Diana's wedding. At the time of his marriage, Andrew was fourth in line for the throne, and Sarah earned the title Duchess of York. Though they divorced in 1996, Andrew and Sarah have remained close friends and coparents to Eugenie and her older sister, Princess Beatrice; Eugenie has even called her parents "the best divorced couple" she knows, adding, "They just always went out of their way to make us feel loved and secure." We've rounded up all the sweetest York family photos over the years, from the day newborn baby Beatrice left the hospital right on up to today.
Related:
Princess Eugenie's Instagram Is Full of Gems, and Guess What? It's Not Private!