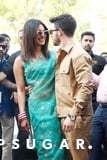 Nick Jonas and Priyanka Chopra definitely have that newlywed glow! After tying the knot during a fun-filled weekend in Jodhpur, India, the couple made their first appearance as husband and wife on Monday. The 36-year-old actress wore a gorgeous turquoise sari, while the 26-year-old singer wore a tan jacket and trousers. He even showed off his new gold wedding band as he gave the photographers a thumbs up. The pair looked head over heels in love as they flashed huge smiles and stared into each other's eyes. We like to imagine Nick serenaded Priyanka with the Jonas Brothers' hit "When You Look Me in the Eyes" directly after this.
The two have certainly had a whirlwind romance. News of their relationship first broke in May, and Nick popped the question two months later. During Priyanka's Vogue January cover interview, Nick's brother Joe revealed that the singer was pretty much smitten with Priyanka the moment he met her. "I think she kind of knocked him off his feet," Joe said. "He was just this little puppy dog." When you know, you know, right? If you need us, we'll just be replaying "Lovebug" over and over as we look back at their swoon-worthy romance.
Related:
26 Times Priyanka Chopra and Nick Jonas Made Us Say, "DAMN, They Look Good Together!"