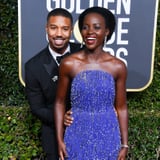 Don't make a bet with Lupita Nyong'o unless you're in the mood to get fit! Last year, the 35-year-old actress revealed that her Black Panther costar Michael B. Jordan had agreed to do six push-ups at her request after he lost a bet between them. Apparently Michael didn't learn his lesson the first time around, because the two were back to their old tricks during the 2019 Golden Globes.
In a behind-the-scenes video Lupita shared on Instagram on Tuesday, she and Michael bantered back and forth about reviving their bet while their castmate Danai Gurira egged them on. "You want to bet with me again?" Lupita teased Michael, to which he responded, "I do!" His one stipulation? No more push-ups. He wants the loser to do squats instead! Watch the video above to see the hilarity go down, and make sure you check out the Black Panther cast's cutest moments from Sunday's award show.
Related:
What Happens When 3 Black Panther Stars Get in an Elevator at the Golden Globes? Just You Wait . . .