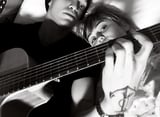 Miley Cyrus and Cody Simpson's romance really looks like it's hotting up. The singer found herself in the hospital this week, after previously announcing that she was suffering from tonsillitis. However, she wasn't going to let her hospitalization stop her from having fun. As well as customising her gown to make it a bit more stylish (#itscalledfashion), Miley took to her Instagram stories to share her love for the visitors who'd made her stay a little more bearable, and it'll be no surprise at all that Cody featured heavily.
Related:
Miley Cyrus Addresses PDA-Filled Outing With Cody Simpson: "Get Used to Me Dating"
Turning up with flowers and his guitar, Miley's new man serenaded her in her hospital bed, performing "Golden Thing," a new song he's written especially for her. "It's too special to be only heard in full by my ears so I am currently pressuring him to DROP IT next week . . . and it's working," Miley captioned a video that featured a snippet of the song. Keep reading to get your own preview, though it sounds like we may only have to wait a few days to hear the whole thing.