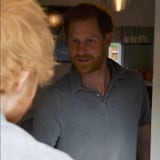 View this post on Instagram

A post shared by The Duke and Duchess of Sussex (@sussexroyal) on
Two of Britain's most famous redheads have joined forces for World Mental Health Day, and while we're still not 100 percent sure what they have up their combined sleeves, it's safe to say that Ed Sheeran and Prince Harry will make waves when their secret video drops in full on Oct. 10. Ahead of the important day, the Duke and Duchess of Sussex's Instagram account shared a tiny teaser to announce the collaboration, and it shows Ed and his camera crew ringing a doorbell that plays the British national anthem, only to be greeted and invited in by a smiling Harry.
There are very few details about what the rest of the video may contain, but obviously, we have questions. Is that the elusive Frogmore Cottage, where Harry and his family live? (doubtful - rumor has it it's actually Princess Eugenie's cottage at Kensington Palace.) Will Meghan and Archie make an appearance in the video? How long until Ed posts a selfie with the Prince on his own Instagram feed? All these questions, and more, will hopefully be answered soon.