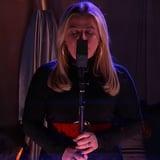 Kelly Clarkson proved that she's a Swiftie when she covered Taylor Swift's "Delicate." During her "Kellyoke" segment on her show, the singer put her own spin on the lovely tune. While the beginning of her performance was absolutely haunting with the special vocal effects, we really got chills when Clarkson belted out the chorus.
Clarkson and Swift have been working closely together over the past few weeks as Swift appears on The Voice as a megamentor. Earlier this year, Clarkson also voiced her support for Swift when the "Lover" singer spoke out against Scooter Braun for acquiring her masters. Following the controversy, Clarkson told Swift she should rerecord her previous albums in an attempt to regain her masters, which Swift eventually confirmed she's doing.
After hearing Clarkson's gorgeous rendition of Swift's song, we think it's time the two superstars join forces and do a duet together. In the meantime, we'll just play this brilliant cover on repeat.