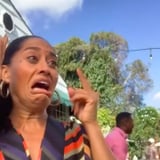 View this post on Instagram

A post shared by Tracee Ellis Ross (@traceeellisross) on
Insects of the world, what did Tracee Ellis Ross ever do to you? The actress recently took a break from posting slamming bikini shots to share a glorious, seasonally relevant 30-second compilation of herself absolutely losing her sh*t over insects of all kinds. There's footage of Tracee getting bothered by bugs during an interview, in the middle of filming an Instagram Story, and even as she's masking on an exercise machine. "I genuinely, really and seriously do not like bugs," Tracee wrote in her emphatic caption. "They be f*ckin up my sh*t." Please enjoy the incredibly relatable and equally hysterical montage above.