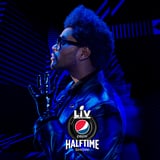 Even though we still have no idea who will be facing off during 2021's Super Bowl LV, we already have our halftime show performer: The Weeknd! On Nov. 12, 2020, it was officially announced that The Weeknd will be taking the iconic stage on Feb. 7! "We all grow up watching the world's biggest acts playing the Super Bowl and one can only dream of being in that position," The Weeknd said in a press statement. "I'm humbled, honored, and ecstatic to be the center of that infamous stage this year."
JAY-Z, who partnered with the NFL in 2019, also released a statement of his own, saying, "The Weeknd has introduced a sound all his own. His soulful uniqueness has defined a new generation of greatness in music and artistry. This is an extraordinary moment in time and the Pepsi Super Bowl LV Halftime Show is going to be an extraordinary experience with an extraordinary performer."
And to make matters even more exciting, it was just announced that Jazmine Sullivan and Eric Church will be teaming up to sing the national anthem. H.E.R. has also signed on to deliver a performance of "America the Beautiful."
Given how much The Weeknd has accomplished in the past few years - his After Hours album is the most streamed R&B album of all time, he made his acting debut in 2019's Uncut Gems, he starred in and cowrote an episode of American Dad, and he is a three-time Grammy winner - it makes sense that Pepsi tapped him to headline the halftime show. Super Bowl LV is set to take place in Tampa Bay, FL, and The Weeknd will join the ranks of previous performers, including Jennifer Lopez, Shakira, Beyoncé, Justin Timberlake, Lady Gaga, Katy Perry, Bruno Mars, Prince, and Madonna.
Related:
Maluma Drops the "Hawái" Remix Video, and The Weeknd Sounds Even Sexier in Spanish