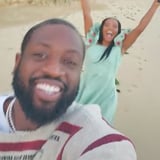 @gabunion

#bridgerton #bridgertonnetflix #ladywhistledown #secret

♬ Wildest Dreams - Duomo
It seems like Gabrielle Union and Dwyane Wade are just as obsessed with Netflix's Bridgerton as we are. While the rest of us have been adopting Regency period slang into our every day life, Gabrielle and Dwyane are taking it one step further by re-creating scenes from the show. In a fun TikTok set to an instrumental cover of Taylor Swift's "Wildest Dreams," the couple can be seen walking on the beach as Daphne and Simon's lines appear on the screen. Gabrielle even wore a Bridgerton-approved green dress for the special occasion, captioning the post, "Lady Bridgerton-Wade." Could they be any more adorable? We're definitely going to need more Bridgerton-themed TikToks, because this is just too good. Better yet, why not have them guest-star in season two? Watch their flawless TikTok above!