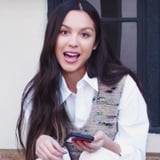 If Olivia Rodrigo's "Drivers License" is one of your favorite songs of 2021, allow the singer to recommend a few more tracks worthy of adding to your pump-up playlist. In honor of her 18th birthday on Feb. 20, Rodrigo shared 18 of her favorite songs, and the list is incredibly diverse. In addition to artists like Halsey, Fiona Apple, Billie Eilish, and Lorde, Rodrigo likes to rock out to The White Stripes, The Smashing Pumpkins, Pat Benatar, and Bob Dylan. "Number five is 'Iron Man' by Black Sabbath," she said with a laugh. "I don't know why, but I was like 13 years old and I would play this song like four times when I woke up in the morning and like four times before I went to bed because I was so obsessed with this song."
Rodrigo rounded out the list with three of her favorite Taylor Swift tracks - all from different albums. "I'm the biggest Swiftie ever and I never stop talking about it," she added. And we would happily hand her the aux cord during any car ride. Listen to all 18 of Rodrigo's favorite songs here, and check out this mashup of Swift's "Getaway Car" with "Drivers License" here.
Related:
SNL's "Drivers License" Skit Was So Good, Olivia Rodrigo Herself Is "Shaking"