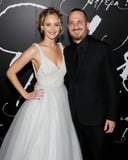 Jennifer Lawrence and Darren Aronofsky have been hitting red carpets left and right to promote their movie mother! this month, and it seemed like they were doing everything they possibly could to not be photographed standing next to each other; the couple has been dating since Summer 2016 and even though they have made multiple public appearances as a pair, it wasn't until Wednesday night at the NYC premiere of the mindf*ck of a movie that Jennifer and Darren actually dared to pose together.
Related
Once You See Mother!, All of These Hidden References Will Make Sense
Clad in a gorgeous dress with flowers in her hair, Jennifer cozied up to Darren and onscreen husband Javier Bardem before the couple broke off on their own to pose for photos together. The 27-year-old has opened up about their personal and professional relationship while doing press for mother! - she recently told Vogue, "We had energy. I had energy for him. I don't know how he felt about me. When I saw the movie [Mother!], I was reminded all over again how brilliant he is."
Related
What Happens to Jennifer Lawrence in Mother? Here's What the Actress Endures For Her Art